New Vid - Fell on black days - Willow (BtVS)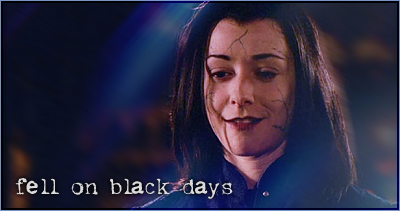 Title: Fell on black Days
Fandom : Willow - Buffy the Vampire Slayer
Music : 'Fell on Black Day's by Soundgarden
Length: 3mins 44 secs
Description "Whatsoever I've feared has come to life, whatsoever I've fought off, became my life"
Download
Tiny WMV 14.1mB
Med AVI 96mB
HQ AVI 152mB
Vidders notes & stream below the cut.
Vidders Notes:
I'm in a strange vidding place right now. I want to make vids but I'm not feeling very motivated or the DVD isn't out yet :( This particular idea has been on the list for the last 3 years at least? I don't know how I feel about it yet - perhaps I need to step away from it for a while.
Some part of it was out of a sense of 'I haven't made a BtVS vid in over a year and really should'. I still love the idea/song but there was so much source (possibly ever appearance of Willow in the whole series - AtS excluded - is on my drive and I think I still missed some scenes with W & T that I had to go back and get) and yet I don't know if it turned out the way I expected. There's more Tara in it than originally planned but I think that's important as it is her fate that was the catalyst to a problem already under the surface.
Anyway I hope you like it and as you know comments are appreciated.